Happy Summer everyone! The Summer breeze is blowing through my window as I write to you about an exciting project that has taken me through the rain drops of Winter and Spring. I love it when a spark of an idea can grow into something amazing.
I've always wanted to team up with my creative brother who is the music teacher at Kenneth Gordon Maplewood School. I had co-authored a children's book with my sister Marybeth Haines and I wanted to work professionally with my brother Rafe. It's always comforting to work creatively with my siblings. Rafe is also a musician who can be heard drumming on his desk or at the table just like I can be seen moving my hands to the beat of syllables that I hear. My idea was to create a new and inspiring workshop from scratch with students at KGMS. That's when I took this idea to a Learning Lab offered through ArtStarts. I even got the chance to pitch my workshop idea to the rest of the participants in the Learning Lab. How cool is that!
I was excited to receive a grant to bring my workshop "The Puppet Musical Project" into Kenneth Gordon Maplewood School. I taught grades five and six students how to create their own puppets and perform in their own puppet rock musical. Kenneth Gordon Maplewood School is recognized as a leader in teaching children with learning difficulties. Led by Dr. Jim Christopher, the students at KGMS are encouraged to recognize their strengths and successes. As soon as I walked in the door of the school I felt a very positive vibe.
My workshop in the classroom was funded by an Artists in the Classroom grant, disbursed by ArtStarts in Schools and funded by BC Arts Council and the Government of British Columbia's Creative Futures program. This funding program supports projects that put students in direct contact with a professional artist in residence in their classroom and aims to connect an art form and another subject area to meet evolving objectives in both. Learn more at artstarts.com/aic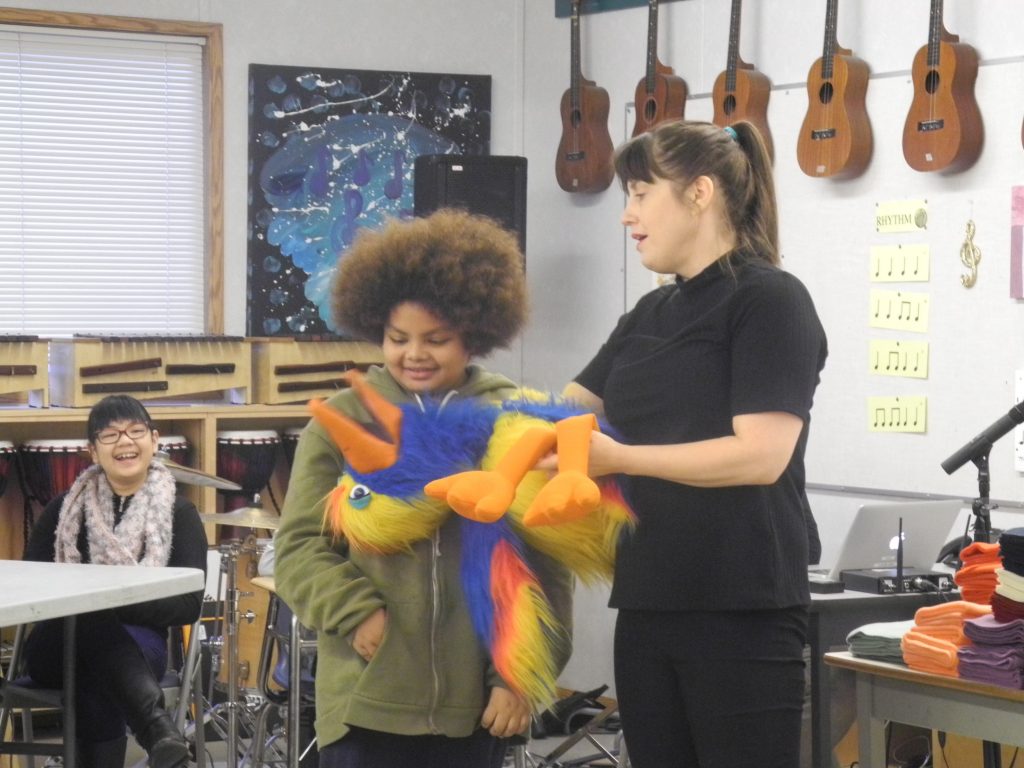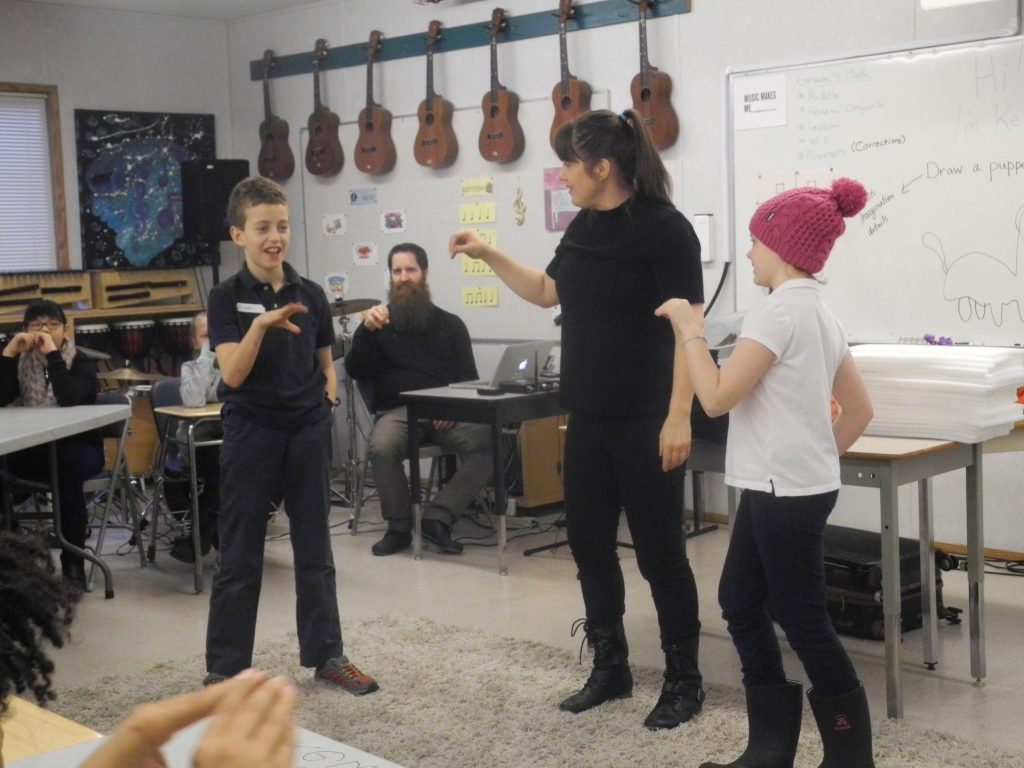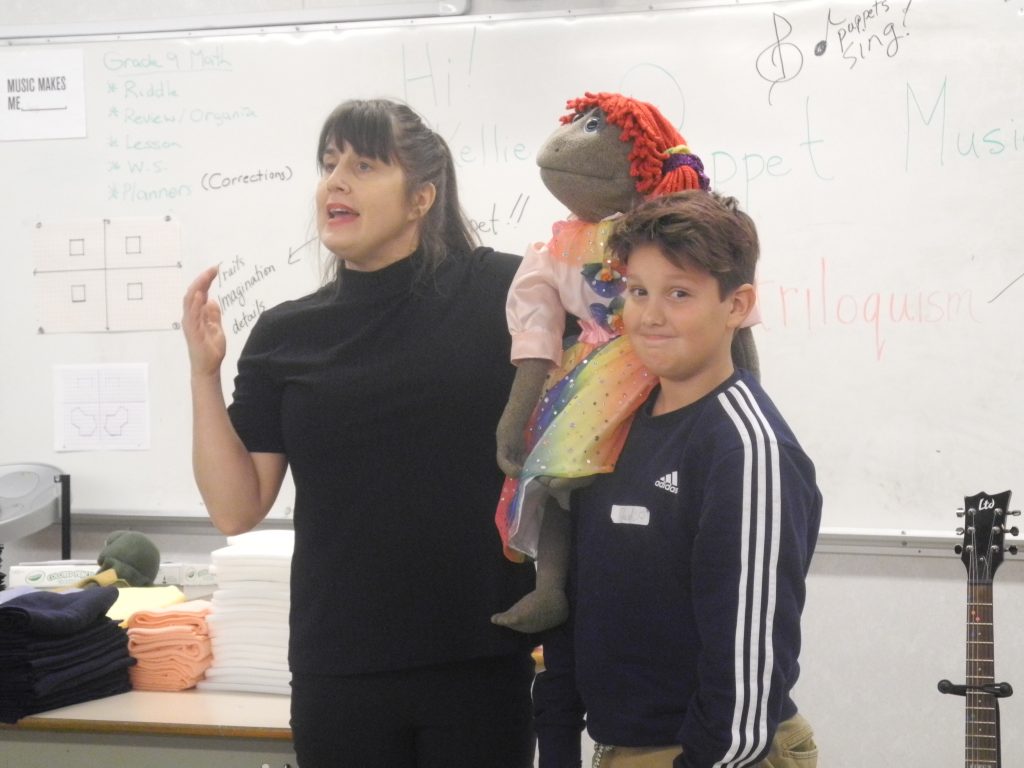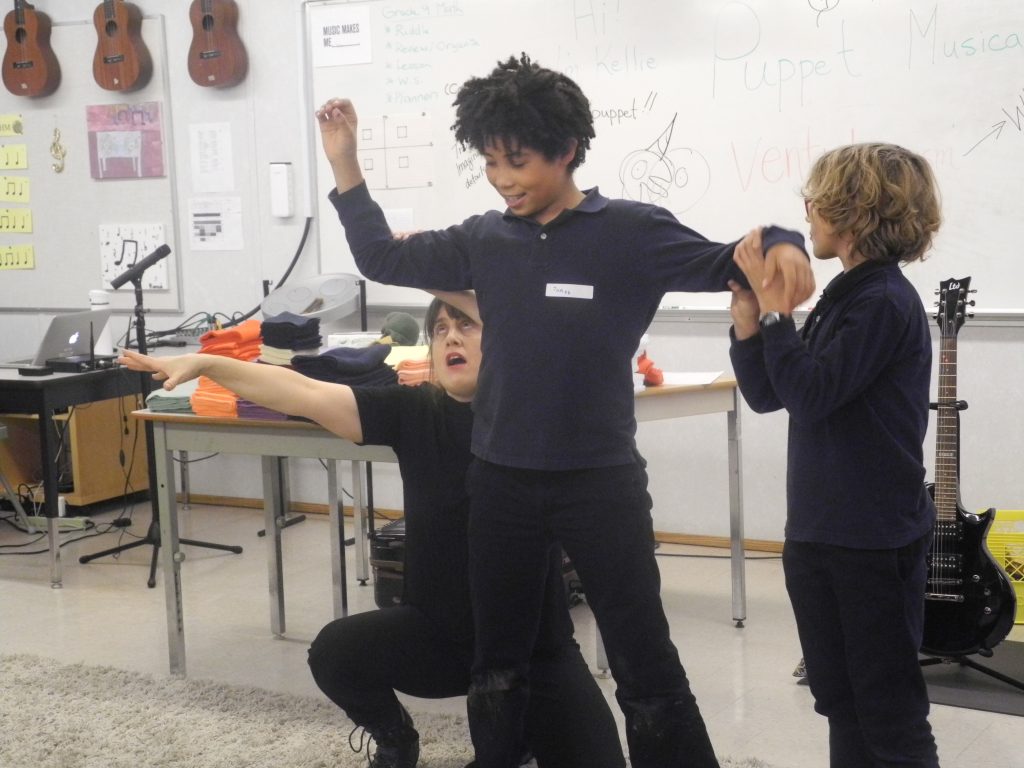 The workshop began with the assistance of my talented friend and puppeteer/builder Jeny Cassady who led the students in building their own puppets. The KGMS students created puppets with their own feelings, thoughts and ideas! The beautiful thing about the puppet making is that many shy introverted children became expressive young puppet makers as they glued and sewed. An elephant puppet who wanted to fit in was a friend to a rock star puppet with a kind heart. You can't make this stuff up. Lots of energy filled the space as the puppets became acquainted with one another.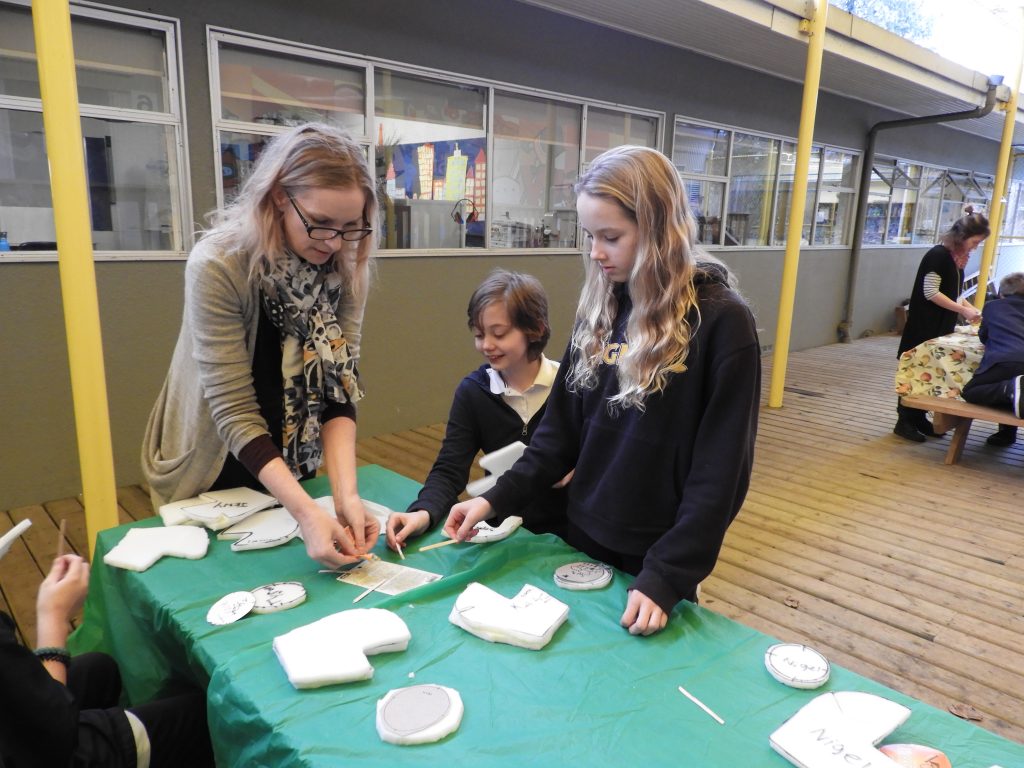 After the puppets were built with Jeny, I taught the students how to puppeteer through the use of musical beats and sounds. Through role play and interactive storytelling, the students discovered how a puppet could move and speak. At the end of the workshop, the student puppeteers performed in their own rock musical for the younger students. Talk about electric energy! The student puppeteers were positive role models for the younger students. The teachers were so incredible to work with.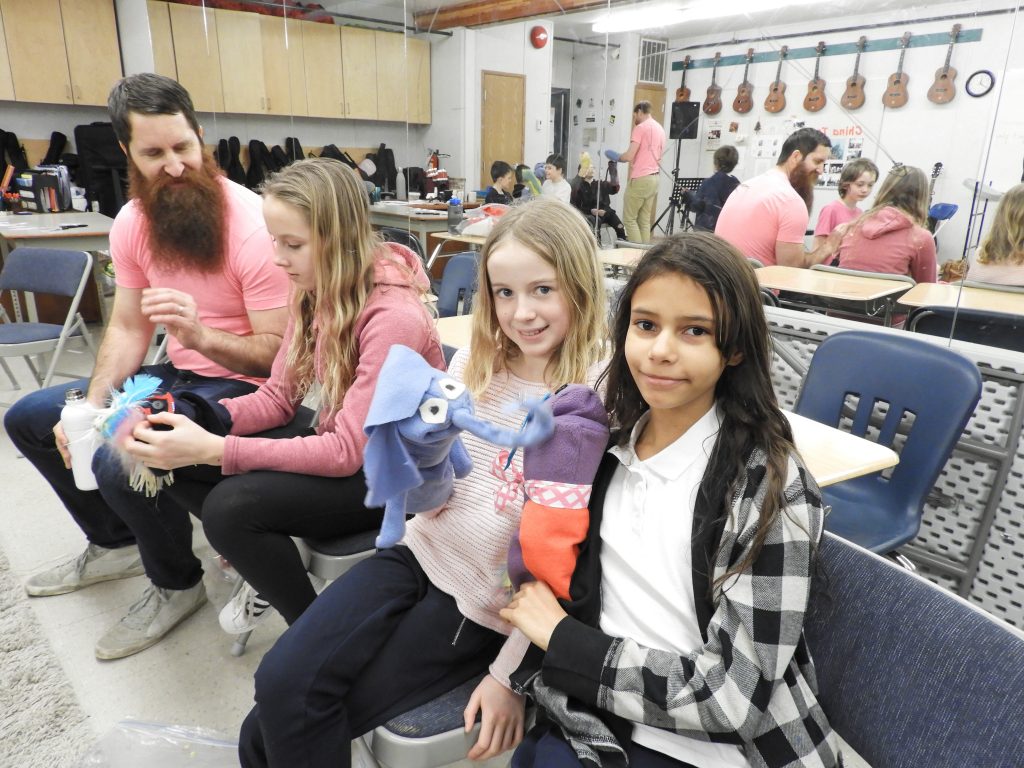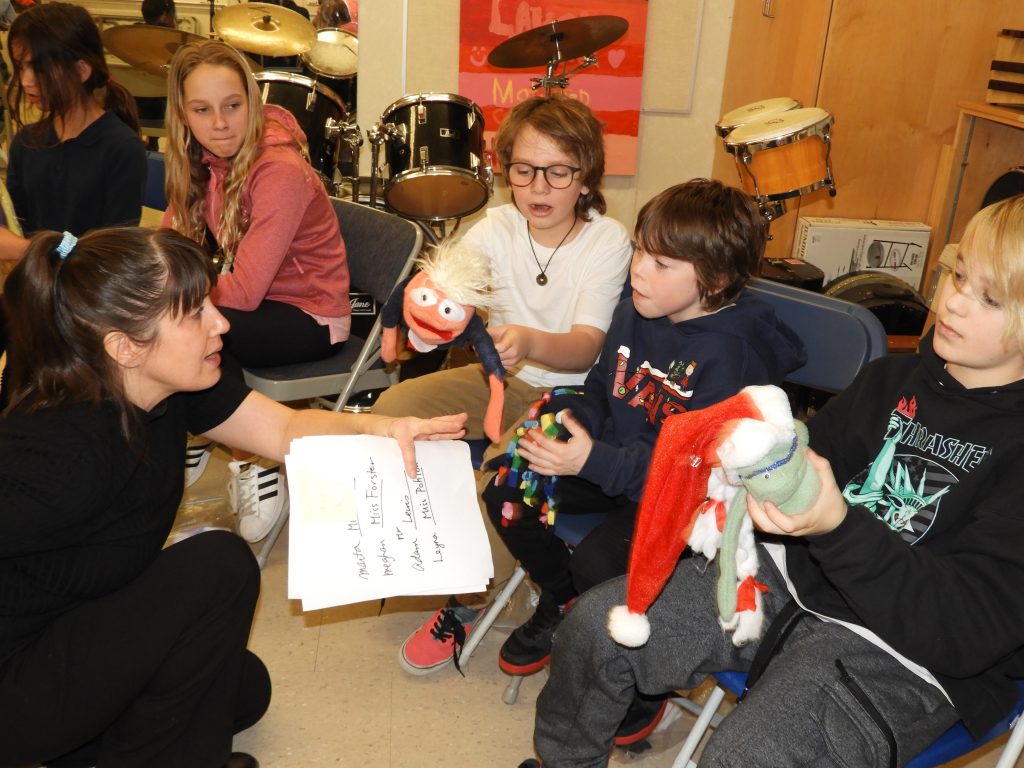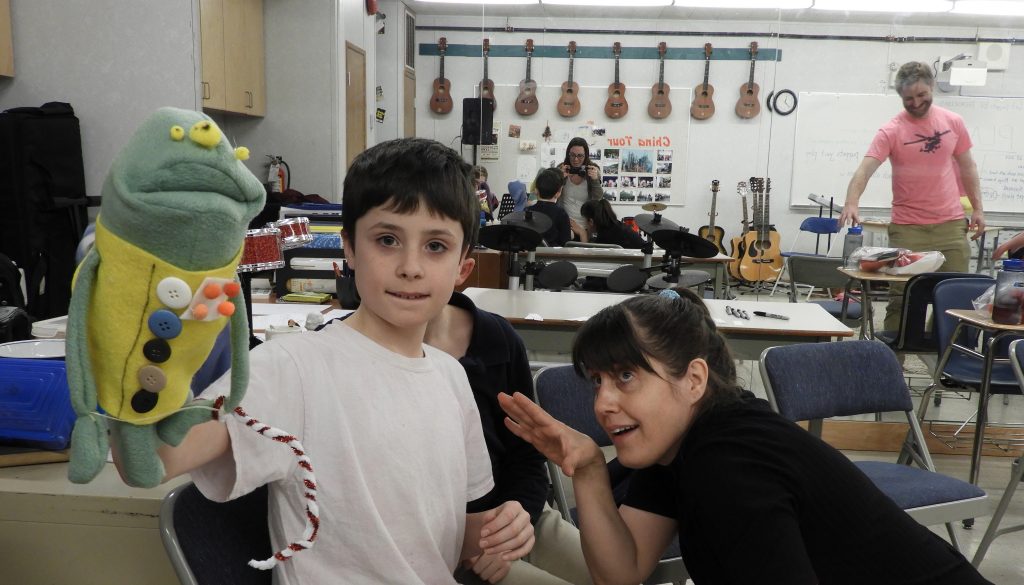 The final talent show at KGMS started off with a bang when 40 puppets appeared in their rock musical in their gymnasium in front of the entire school K-12 and parents and families. During my work with KGMS I was given the opportunity to meet such creative, talented and imaginative students who today can puppeteer and teach their family members or friends how to puppeteer. I guess it all starts with an idea and as silly as it may seem, it's important to build on that single idea because you never know what you will create through a collective experience. Being in a classroom with 60 students and 40 puppets is something to remember!
Enjoy the video from KGMS with special thanks to teacher Adam Lewis who edited this special video from a young student's experience. Thanks to Jim Christopher for all of his support from the beginning of the pitch to the final musical project.
This workshop will now be available to schools through ArtStarts in Schools. KGMS was the very first school to participate and I can't wait to bring "The Puppet Musical Project" to other schools! If you are interested in speaking with me feel free to connect. Be sure to join our newsletter for more fun puppet happenings across Canada this summer!
Cheers
Kellie