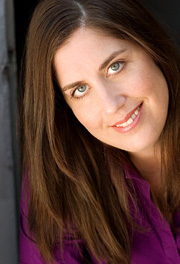 Kellie Haines
Ventriloquist, Actor, Puppeteer, Comedian
604.916.1944
kelliehaines@shaw.ca
Kellie Haines started talking to her puppets at the age of 8, and when they started talking back she knew she had a show.  Soon she was performing at fairs and by high school she had a puppet road case that she carted around in the trunk of her father's car. Now a seasoned ventriloquist, puppeteer and family entertainer, Kellie's repertoire of shows combine witty repartee with puppet characters everyone can relate to, songs you can dance and sing along to, and engage important themes such as believing in yourself, embracing diversity and celebrating nature.
As a workshop facilitator Kellie has brought puppet-building and puppetry into a variety of educational and therapeutic settings, from classrooms to museums to youth detention and children's medical care facilities. "Puppets have stories to tell," she has said, "and they can bring out voices and characters from inside us that we didn't know were there!"  Kellie's was invited to consult, perform and present workshops at the Museum of Anthropology in BC during their exhibition of Shadows, Strings and Other Things at MOA.
Kellie has a BA in Drama and a background in singing and clowning. She performs at festivals, and in schools and theatres across Canada. She has also shared her puppetry talents on TV productions including a Jim Henson TV show Turkey Hollow. Kellie was thrilled to represent Canada at Vent Haven International Convention 2019 in Kentucky, USA. Kellie's shows are hilarious and full of spontaneity, and her technical skills with ventriloquism invites her audiences to experience storytelling in a unique and magical way.  Even adults wonder who is pulling the strings!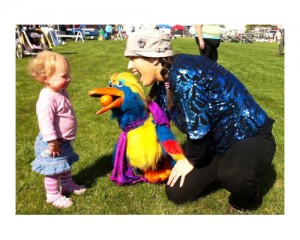 Kellie Haines Ventriloquist Press Kit 2017