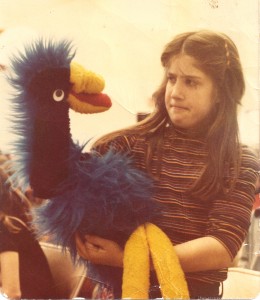 For the past several months I've been working with puppeteer/director Jeny Cassady on a brand new production called A Birdy Told Me So and we're excited! This new family show premiers at The Vancouver International Puppet Festival's HomeGrown Series which is a celebration of Vancouver puppeteers in anticipation of The INTERNATIONAL Festival (coming October 2018!).
This multi-media show has a storybook feel with visuals by artist David Robinson.
Follow the adventures of Kellie and Magrau the bird, from their first meeting at Kellie's 8th birthday party through misadventures on the highwire, musical numbers and dazzling displays of ventriloquism! What did the birdy tell me? Spoiler alert: Never give up!
Hope to see you and your family and this exciting event !!!
Tickets are on sale now!
Eight year old Kellie doesn't feel like she fits in at school until she receives a birthday gift that talks on its own! Kellie meets Magrau, a chatty confident bird puppet who has a flair for singing, dancing and making people laugh. When Magrau signs the two of them up for the school talent show Kellie is mortified. What if everybody laughs? What if nobody laughs? The advice from Magrau the bird? Never give up! Join Kellie as she learns that success is like learning how to ride a bike: you're going to fall down a few times on your way. This show blends storytelling with ventriloquism, puppetry and singing. Join us for a heartwarming tale about sharing our talents and overcoming shyness.
All ages
PERFORMANCE WORKS ON GRANVILLE ISLAND
Fri, February 16 1:00 pm
Sat, February 17 10:00 am
Sat, February 17 1:00 pm
Sun. Feb 18 12:00pm