Discovering my voice as a teacher of ventriloquism and puppetry!


I've always loved teaching. What I didn't realize was that teaching drama, puppetry and ventriloquism would make me a better performer.
After a residency in a local school where we built puppets and I taught puppetry and ventriloquism, I got on a plane to deliver an interactive Spring Break Puppet Musical experience in Quesnel. The students were fantastic budding vents and puppeteers who had brilliant ideas and energy for creating character and bringing that character to life. When I got home, I jumped on skype/ zoom to teach from my living room. I can teach a children's social worker in New Jersey, a ten year old in Alberta and two sixteen year old students back to back from my own living room. How cool is that!
I'm grateful. I'm thankful for all of my students. There have been so many great teachers in my life that helped me learn 'stuff' and made it fun. Even learning about lighting for theatres was fun when my professor got us drama students up moving about the room to act as Electrons and Protons. Learning is FUN and I've found that teaching can be fun! Over the internet, the energy is zinging back and forth from myself to my student and back again. I meet so many interesting people of all ages.
Puppetry and ventriloquism also can help a shy student open up. I almost became a drama therapist after my degree and I have always been very interested in using play as a way to help people feel better about themselves. Puppetry can be about building confidence. For me, puppetry was about fitting in and making friends at school. Put a bunch of socks in a pile and give a group some odds and ends of recycled materials and watch them create puppets and characters. Give them some tools and watch what happens to the energy in the room. The imagination is a pretty cool thing and you don't have to be a child to have that child like wonder. Just ask my 80 something year old student Marj.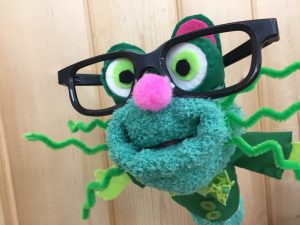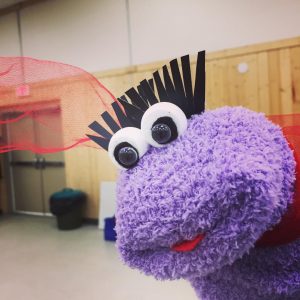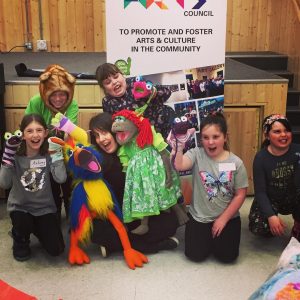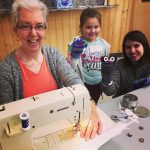 "Absolutely love having Kellie work with my son. She "gets" his unique challenges and Magrau always brings a smile to his face when his spirit needs lifting. Flexible, understanding, encouraging, relaxed, and light-hearted are some of her amazing qualities that she weaves into her sessions. My son is engaged and learning so much! I can't recommend her enough!" – Judy Smith parent.
"Having Kellie come to KGMS was such a treat for our students and teachers in the school. Her program encouraged confidence, respect and brought a lot of shy, introverted students out of their shell. Throughout the time she was in our classroom, the students were excited to practice and hone their puppeteering skills. It was an incredible experience to say the least."
Adam Lewis – grade 5/6 teacher at Kenneth Gordon Maplewood School.

https://www.quesnelobserver.com/video/watch-local-kids-build-puppets-perform-in-spring-sing-workshop/
So I say "let's share our craft!" Everyone can learn ventriloquism and puppetry and if you want to put 10,000 hours into your craft – go for it! It's all about learning and practising and learning can be fun if you've got a puppet or vent figure by your side.
Happy Spring everyone!
Kellie
More info on lessons with Kellie and puppets?
kelliehaines@shaw.ca