This past month has been a busy one for puppet making workshops, performing for schools with ArtStarts and a stage show and workshop at the Vancouver International Puppet Festival that brought a smile to the faces of many socks and people.
It's incredible to see how fast adults and kids learn ventriloquism with some quick easy tips for substituting difficult letters with easier to say letters and sounds. Sound interesting? If you're interested in having a workshop brought to your community or place of work, let us know. The thing is, it's the magic of those socks and all those neat noses, eyes and eye placement that makes the sock appear to breathe life. Puppetry and ventriloquism can be learned and anyone can do it. I love the look on the face of a participant who suddenly realizes that bringing a sock puppet to life is easier than they originally thought. Working side by side with a few students or 50 students of all ages is fun, fun, fun because I never know where my lessons will take the group.
At the Vancouver International Puppet Festival, there were other dynamic workshop presenters and I have to say it was fun to talk to them about their own processes in teaching. Who knew you could bring a piece of clothing to life to breathe as a character!
Wait, there is more…
At the beginning of the month we did a two hour workshop with teachers on how to build their own sock puppet, learn to puppeteer and bring their puppets into their circle time. What a fast two hour workshop with so much energy although the workshop was after the teacher's workday and into the later evening. The power of puppets is pretty cool and when sock puppets and preschool teachers come together to unite, creative stuff happens!
SHOWS!
We performed our show A Space To Play and our new show The Story of Me, Myself & I with ArtStarts in Schools! In between shows Magrau played goal with me and took a nap in a basketball net.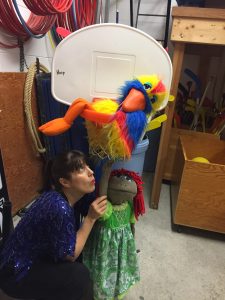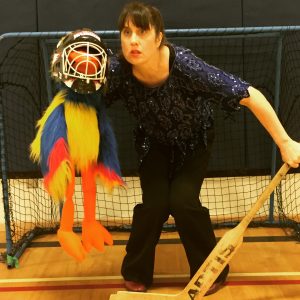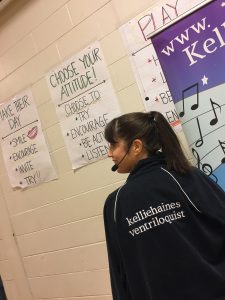 When you get a few hundred kids in a gymnasium, I know that I need to have a break in between my dialogue for that beat of laughter…knowing where the beats are in a show is interesting work. I have to say that I always give the kids enough time when I first come out with Magrau to chat their chat amongst themselves. You often hear "who is doing the talking?" or "she is wearing a battery and the sound is coming from that speaker." Then after the initial shock of two puppets who can talk on their own wears off, the laughter keeps coming and the teaching happens. Kids feel good, puppets and teachers feel good and I feel good.
Puppets are therapeutic and exciting. Maybe that's why I can't wait to get on stage.
Christmas is around the corner and we are excited to perform in our musical Journey to the North Pole! Check out our schedule for where we will be and come see us! More workshops, more shows…more sock puppets!
Join our newsletter to see what's up in puppet news. Magrau and Kamilla are serious about having fun and I wouldn't want it any other way!
Puppets help kids and adults play. Even adults get to play. Just watching adults make their puppets, humming along, or being completely quiet makes me realize that adults just need that outlet to bring out their inner kid.
Once that inner kid is out…the sky is the limit.