So much has occurred since I last blogged and I'm happy to say that Magrau the bird and Kamilla the frog hit their marks at our album launch celebration last week! ArtStarts in Schools gallery was the perfect setting for new songs, new friends and lots of energy from amazing kids! The new songs were a hit which is a really great feeling because I don't always know how the songs will be received until I perform them. How will they be related to by the kids and adults? I couldn't have been happier with the results which were better than I imagined. The dancing didn't stop throughout the show until the quiet moments. Hugs were given to Magrau after I sang the song I Wonder Why. After the CD signing, we took pictures and the puppets answered a ton of questions that inquiring minds wanted to know. Did Kamilla have a mom? Did Magrau want an invisible worm? Does Magrau close his eyes when he sleeps? The puppets just danced around and felt super important, however they knew how lucky they were to be able to meet such good friends.
Did I mention that my friend Christopher Bush, who had last seen me perform in grade 4 or 5 at school, showed up with his family? I hadn't seen Chris since grade 4 so after the show, we caught up where we left off as two kids at Winger School in Wainfleet Ontario. Today, Chris is doing incredible things in this world and is a visionary. Here is an article about Chris' work turning cow manure into biomethane. Incredible!   http://blogs.theprovince.com/2013/12/03/is-this-the-future-of-farming-in-the-fraser-valley/
I wanted to thank the folks who came or showed interest in our new album! After the show, Trish my stage manager and friend mentioned something interesting. Had I realized how many meetings Trish and I had at her kitchen table talking about this 'new' album that I was to write? I realized that this dream we had of a new album had just taken shape and we had launched it!
The next morning had arrived and I found myself with two puppets at Roundhouse Radio being interviewed by Kirk Lapointe. How much fun can a ventriloquist have? Listen to our interview here. We really hit it off with the staff and Jen, one of the producers gave me tea to wake up for a 7am interview. Kirk really 'got' the puppets and I am very appreciative of the opportunity to talk about our album and touring with ArtStarts etc.
Click to Listen to – Roundhouse Radio Interview with Kirk LaPointe 
Next up? The songs on The Story of Me, Myself & I are inspired by my childhood, growing up on the family farm. A wonderful family bought the farm after we moved and I can't explain how beautifully everything has been kept up but it's just simply beautiful. I got a hold of the youngest child in the family Sarah who is a brilliant photographer and I say brilliant because I really feel that she is. I asked her to take pictures of her farm now so I could compare them to the pictures we took when I was growing up. So stay tuned for a photographic adventure…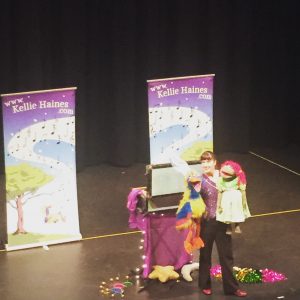 If you'd like to know our show schedule updates, chances to win CD's and other fun puppet stuff please join our newsletter! (Sign up on our home page)
In the meantime you can purchase our CD on our website for $7.
Keep dreaming big! BIG!
Kellie