When:
February 16, 2020 @ 2:00 pm – 3:00 pm
2020-02-16T14:00:00-08:00
2020-02-16T15:00:00-08:00
Where:
Havana Theatre
1212 Commercial Drive
Vancouver
BC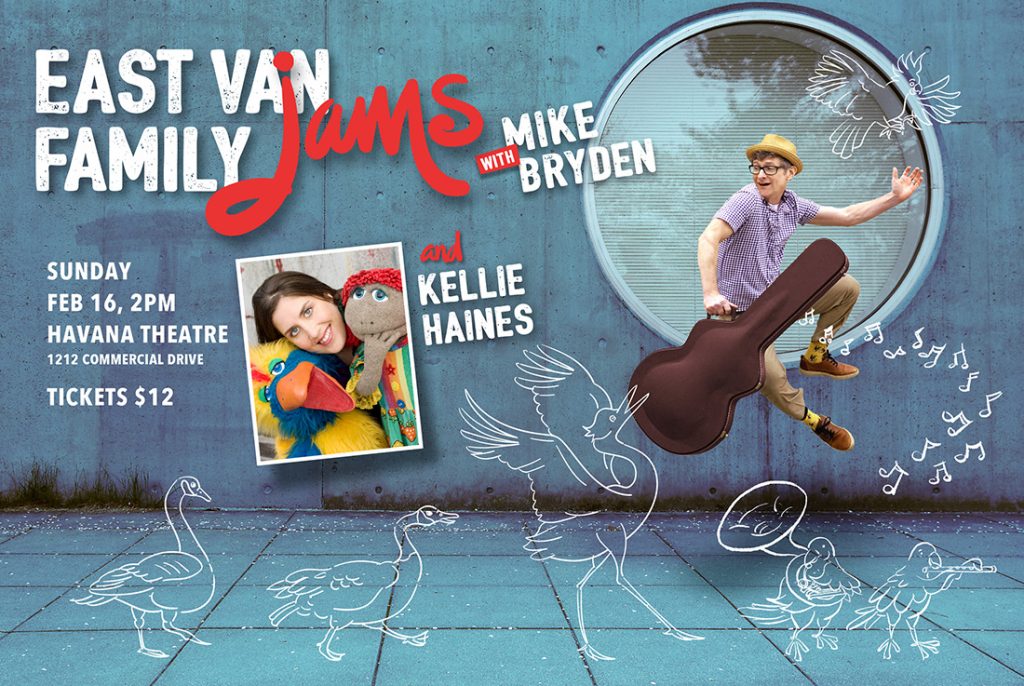 The East Van Family Jams is a variety show that happens monthly at the Havana Theatre on Commercial Drive. The series is hosted by East Vancouver artist and entertainer Mike Bryden and was conceived as an event that all members of the family could enjoy.
With the goal of introducing our amazing and diverse talent base to new young audiences, Mike invites performers from all creative corners of our city to perform with him. To date local favourites such as Jill Barber, Oh Susanna and Paul Silveria have shared their talents on stage at the Family Jams.
February's special guest is none other than multitalented ventriloquist and children's entertainer Kellie Haines!
Kellie sings songs that you can dance and sing along to and engage in important themes such as believing in yourself. Come build your imagination with her talking birds and singing frogs as Kellie and her friends guide you on a hilarious adventure.
Havana Theatre is a very special space hidden behind the Havana restaurant on the Drive. It's wonderful and cozy and only seats 60 people.
The East Van Family Jams sell out regularly so purchase tickets early.
February's Jam: Sunday February 16th at 2pm.
Location: Havana Theatre, 1212 Commercial Drive