People really like Kellie & Company!
Read on to see what people have to say about Kellie's performances:

Our school loved having Kellie visit and perform with her amazing puppets. In her performance of "A Space to Play," the message is very clear (everyone counts and everyone can make a difference). Each one of our students, left the play with a smile on their face and a spring in their step. I really appreciated the audience participation which included many of our children with special needs. Kellie and her team arrived early to set up and even rehearse before the students arrived. Kellie also has very good management skills to keep even our young students focused.
Don't miss out.
– Katherine, School District 40, New Westminster BC


"In a desire to bring literature to life for our students, the reading committee at our school asked Kellie to host a workshop focusing on storytelling. After consulting with us about our needs, Kellie came to us with ideas, research, a great presentation, meaningful activities, and a lot of vitality and pizzazz. We had a fun time finding ways to use puppetry and storytelling to encourage our students to have a creative voice, and we also connected as a staff, – all within one hour. What a great presentation – BOOK HER!"
 – Liz Mansfield Head of Primary Department West Point Grey School Vancouver, BC. Canada
"Thanks for such a wonderful show.  The staff and students were captivated
by the dance, puppetry, music and audience participation.  I loved the way
you brought the theme of Sports Day into the show.  It was a great way to
kickstart our day! Thank you also for the suggestions on how we can use
puppets within our language arts/fine arts program."
– Jeevan Sandhu – Teacher.
We just want to write you to thank you for such a wonderful puppet experience.  The children have been enthralled with using their 'puppet' voices since that day.  Our new puppets just arrived the other day and they were so excited to meet their new puppet friends. Your charisma and energy were electric!  We hope that you'll consider coming again next year!
– Angela and Nicola Gr.1 Teachers
I received a hand-written compliment about your performance at Sardis Library … and I wanted to pass it on. The grandmother and granddaughter have been thoroughly enjoying their trips to the library but were particularly impressed by your show and the positive impact it had on them. "Kellie was simply delightful. I appreciated her tremendous professionalism, her obvious skill in her craft, and the superb manner in which she handled and entertained such a large and varied group of children."
Thank you once again for your performances at all of Fraser Valley Regional Libraries! -Chris Conroy Fraser Valley Regional Library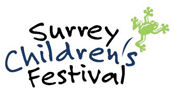 There is no doubt in my mind that when children meet Kellie Haines and her puppet friends, Magrau and Kamilla, they leave thinking the puppets are just as real as Kellie is. Kellie creates the perfect opportunity for children to believe in talking frogs and in the power of their imagination. I will definitely be bringing Kellie Haines and Co. back to our festival again.
– Marnie Perrin Artistic Director Surrey Children's Festival 

Kellie Haines is a skilled ventriloquist, who engages all ages, children watch in amazement and wonder as the puppets come to life and speak, but they are just not sure how? It was a delight to have Kellie perform at the Vancouver Island International Children's Festival. Her wonderful personality and adorable puppets brought smiles to faces along with lots of giggles. Both children and adults enjoyed her entertainment and it was a pleasure working with her.
– Bobbi Kurtz, Vancouver Island International Children's Festival
"Kellie's performance was engaging to both students and adults. Her songs were fun and energetic and her puppets colourful and cute.  The Strong Start kids really liked it when she got the parents involved too!"
-Debbie Boushie, Strong Start Facilitator
"Captivating and age appropriate, Kellie's show kept both kids and adults entertained from beginning to end. The audience participation made it even more fun. "
-Melanie Moore, Kindergarten Teacher
  "Kellie and Trish were accomodating to us and were able to put on a great performance with minimal effort from our staff.  They really took care of everything. The students were transfixed during her whole show, except when she had them up and participating, which they happily did with big smiles on their faces. I would enthusiastically recommend Kellie & Co. "
-Catherine McCambridge, Neighbourhood Support Worker

"I liked doing the kicks with Kellie.  My favourite part was when the puppet said 'You almost kicked me in the face!"
-Angeline, 5, Kindergarten Student
"I liked the part where the puppet ate the cupcakes!"
-Esa 6, Kindergarten Student.
"Kellie Haines, is a singing, dancing, comedic bundle of energy with talents in every realm. Her ventriloquist skill was a particularly impressive one … From the children's perspective perhaps the best aspect of the show was the audience participation.. The show gets 5 stars from us."
– CBC Review Live Wire, Vancouver Fringe Festival Audience Review Winner
"Kellie Haines is simply magnificent…Her expertise, wit and quickness rivaled that of any comparable Broadway performer that I've seen here in New York City"
– Mark Levine, TSA, New York
"Great to have you on board this year Kellie. Everyone loved you!"
– Dolly Hopkins, on site programming Vancouver International Children's Festival
"With the help of Kamilla and Magrau, Kellie Haines effortlessly engages and excites children of all ages. Feedback from teachers and families has been wonderful and Kellie has developed a strong following of eager little fans, young and old."
– Pauline Landry, Teacher and School Programmes Officer, HR MacMIllan Space Centre
"Frogs in Space: Kamilla's Quest with Kellie Haines is one of the HR MacMillan Space Centre's most popular planetarium shows for young people. Kellie and her puppets really connect with the kids through songs, dance and multimedia magic of the planetarium. Parents love the show too because it combines science, learning, entertainment and fun."
– Lucy Komori, Director of Development and Marketing, HR MacMillan Space Centre
"Observing Kellie in her element as a performer, counselor, educator and group facilitator is truly an awe inspiring experience."
– Marnie Neve, Los Angeles
From a letter of introduction from the Tourette Syndrome Foundation of Canada:
"Watching the adults in her audience become kids again through her wonderful gift of ventriloquism and to see magic in the eyes of the children she entertains is delightful. However, observing the transformation in a group of children responsible for otherwise ridiculing and teasing another child, now embracing him and offering apologies because they now understand, is a truly remarkable experience."
– Rosie Wartecker,Executive Director, Tourette Syndrome Foundation of Canada