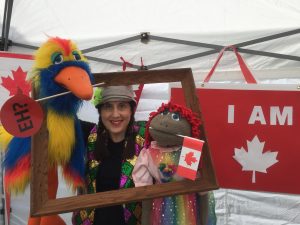 Canada's diversity is incredible and we're celebrating being Canadian by dancing and singing on stage for the Langley Centennial Museum Main Stage at 1pm.
Magrau and Kamilla returned from Red Deer with an extra hop in their step after meeting new friends like this Octopus who drove in the car with us from Red Deer to Vancouver and now swims regularly in English Bay where we live.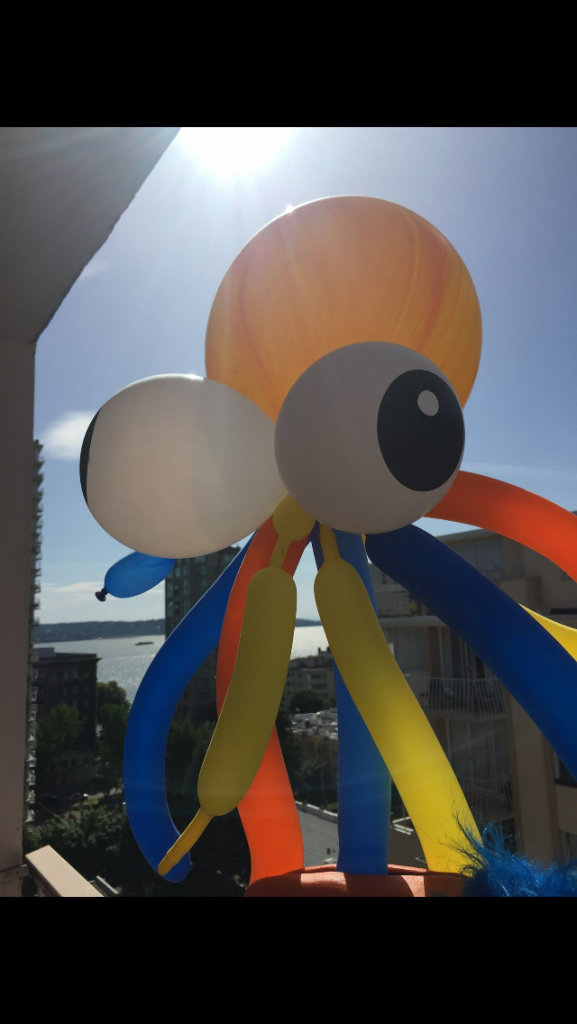 Our new songs and comedy bits are getting great reviews from folks and we feel good about that! Stay tuned and check out our website for new shows and join our newsletter for personal invitations to shows with contests and all puppet happenings behind the scenes.
kelliehaines@shaw.ca

We're excited to hit the road again and travel around BC as we visit communities such as Armstrong, the Okanagan plus many more including the Fraser Valley… 21 shows in 12 days for the Fraser Valley Summer Reading Club!
Whether you are picked to be a volunteer to come up on stage and join the action or watch the action on stage from afar…It's Canada Day this Saturday and even talking birds and singing frogs want to celebrate. Remember you don't have to be a frog to do a frog dance with Kamilla.
Click here to listen to our song 100 Frogs!

Thanks folks! Come by and say hi! We love seeing old friends and meeting new ones. You never know what Magrau and Kamilla are going to say next and this keeps Kellie on her toes and each show an adventure.
Cheers Kellie and the puppets.