As an entertainer, summer flies by faster than Magrau the bird on roller skates.  June started out with a magical trip to Atlanta to perform and do a puppet making workshop for the Brad Cohen Tourette Foundation. Performing for kids 8 to 18 was extraordinary! Now, we are talking about energetic kids and youth who want to get moving, and yet when you bring in a quirky bird who talks by himself, the room gets silent and everyone is tuned in on the ventriloquism.  One of the best things about being a ventriloquist is that many people have never seen a ventriloquist before, at least not up close. The older youth mentored the younger children and people got a chance to express themselves through puppetry and a lot of laughing. It was a thrill to see the audience engaged and I feel appreciative of that time we spent together talking about how to help stop bullying and respect one another.
Up next was a wonderful young man named Jaylen Arnold who has been featured on Nickelodeon and is very talented, kind AND his grandma can dance up a storm! I had the privilege of sitting with Jaylen's family and dancing with his beautiful grandma who actually sparkled.  Check out Jaylen at www.jaylenschallenge.org … Amazing!
We performed our final ArtStarts in Schools show of the season and the energy of the students was focused once again as Magrau and Kamilla  upstaged me once again in A Space To Play, our musical show celebrating diversity and talents.  As I sat hiding in the equipment room  before I came out on stage, with all of the balls and hula-hoops, I remembered that I started out as a child in my school gymnasium with Magrau the bird.  He wanted so badly to get on stage and show what he could do. Performing has helped me feel good about myself and watching the children and teachers smile and laugh is always fulfilling to me. I remember how nervous I used to be in school when I had to take tests, or go through experiences that were brand new to me, but when I was on stage, it all came together and I was confident.
Our album The Story of Me, Myself & I is coming alive on stage as we perform for festivals including the Kelowna Fat Cats Children's Festival which despite the stormy weather, brought us volunteers to be our frogs on stage for our song 100 Frogs! The kids and adults knew the lyrics and actions! Knowing that your music is working on stage with the kids actively participating and moving to the beat is comforting to any artist and it's exciting to watch your fan base grow and for that I'm very thankful.
Click here to see Kellie in the wind in kelowna !
My stage manager and dear friend Trish has this interest in taking pictures of me when I'm in the zone and quietly waiting to get up on stage. She has taken many pictures through the years of me when I'm at my most calm. I'll end this blog post here with a pic in front of the water. I was about to take the stage and it was about to storm. We had a blast and soon umbrellas were coming up front with folks under cover from the rain still dancing to the beat and watching Magrau on stage get a little wet on his orange feet.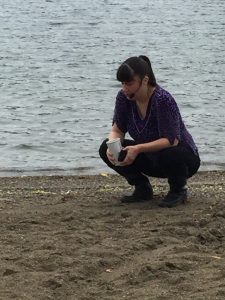 So many ideas for blogs! Ever since I was little, my mom said that often my mind would move faster than my words. I'll be catching up on blog posts this summer as we perform and play on a sunny day and even if it rains, it will be okay!
Hey! The first 3 people who comment on this blog get a free CD The Story of Me, Myself & I…are you game?
Kellie 😉